VENUE

The 15th International Conference on Malignant Lymphoma will take place in the Lugano Convention Centre, Palazzo dei Congressi.

Palazzo dei Congressi (PCL) is in the centre of the city (it's a 10-minute walk from the central railway station), but overlooks Parco Ciani, the beautiful city park, and faces the lake of Lugano. Its rooms will host the scientific general sessions and the satellite symposia.

Some of "Meet the Professor", "Focus on…" and other parallel sessions will be held in additional large conference rooms which are 5-minute walk from the main convention centre (Cinema Corso and University). The same halls serve also as overflow rooms for the main sessions, held in Palazzo dei Congressi. For the first time, it will be possible to submit questions to the speaker even from the halls where sessions are broadcasted.

Lunches, coffee breaks, poster sessions and the commercial exhibition will take place in the "Marquee Parco Ciani", a large gazebo built in Parco Ciani, overlooking the lakeshore and connected to Palazzo dei Congressi by a covered walkway.



15-ICML is proud to compensate its greenhouse gas emissions investing in the carbon offset project: "Paradigm Cookstoves and Water, Kenya".


PARTICIPANT PROFILE

The 15-ICML will bring more than 3'000 physicians to Lugano from all over the world: haematologists, clinical oncologists, radiation oncologists, paediatricians, pathologists and leading researchers involved in the study and treatment of lymphoid neoplasms.
Demographics from 14-ICML (June 2017):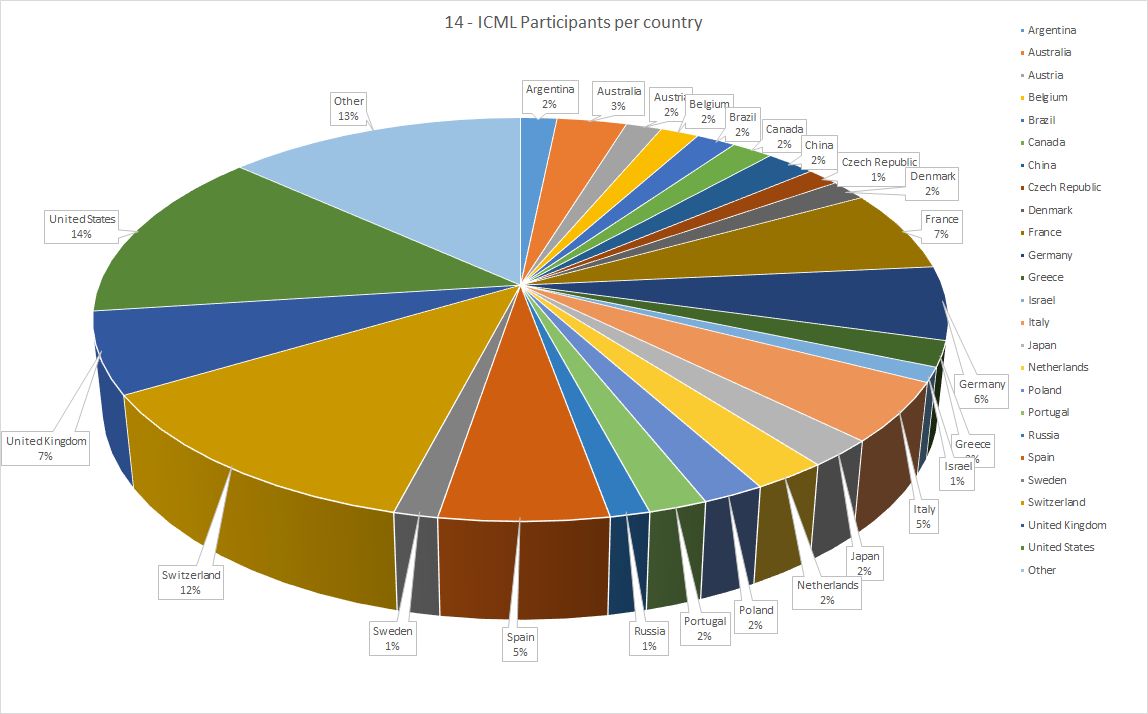 Continuing Medical Education

Application for European CME accreditation (ECMEC) will be made to the European Union of Medical Specialties-European Accreditation Council for Continuing Medical Education (UEMS-EACCME®). European credits are recognised by the American Medical Association (AMA).


Collaboration with the European School of Oncology (ESO)
The 15-ICML program will be part of the third edition of the Certificate of Competence in Lymphoma, a 14 months ECTS program developed by the European School of Oncology (ESO) and academically recognized by the Ulm University. The aim of the Certificate of Competence is to provide a curriculum of studies to advance knowledge and science in the management of lymphoma patients.
Further information can be obtained by visiting this link.

Immediately before the 15-ICML, the 2019 Full Immersion Course on Leukaemia and Lymphoma will take place.
This is an intensive and interactive course organised in co-operation with ESO.
The international faculty will guide participants through the complexity of biology and important clinical problems in leukaemias and lymphomas, offering interactive case-presentations, small group seminars, and ample discussion slots. There will also be opportunities for informal exchange of ideas and views among the participants and the experts.
Attendance will be limited to 80 participants and registrations will be received on a first-come/first-served basis.
Date: 15-17 June, 2019

Location: Hotel De la Paix, Lugano
Further information can be obtained from the ESO Bellinzona Office (This email address is being protected from spambots. You need JavaScript enabled to view it.) or by visiting www.eso.net


INSURANCE

The ICML Local Organizing Committee bears no responsibility for untoward events in connection with, before, during and after the congress. Participants are strongly advised to obtain their own personal and travel insurance coverage.


VISA

Citizens of some foreign countries will need a visa to enter Switzerland. An overview of visa provisions is available visiting the individual and group registration information in the congress site. Please note that only delegates who successfully complete their registration to the conference can receive a Letter of Invitation to submit a visa application.


ITALIAN DELEGATES

Sponsors of Italian delegates who need an AIFA pre-request should address their requests to:

Barbara Mantegazza
Aria di Viaggi Srl - Congress and Fair Department
Via Matteo Bandello, 1 - 20123 Milan (Italy)
P.I. 02818040152   -   IATA 38220346
Tel. +39 02.4818691


PHOTOGRAPHS AND VIDEOS

ICML reserves the right to photograph and videotape the congress and participants and to use such photographs and videos in any internal and external communication referring to ICML (website, Preliminary Program and Call for Abstracts or other publications). By registering, consent to such uses is assumed.